We buy and sell new and used games, systems and accessories
Open 7 days a week from 10am-9pm (excluding holidays). Call Us at 925-682-4263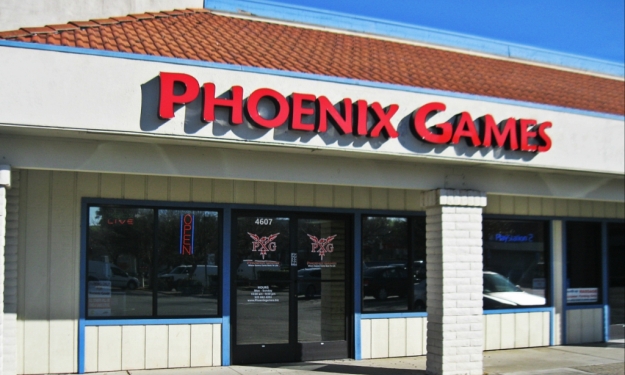 In 2009, an enthusiastic gamer opened Phoenix Games and discovered that many people shared his passion for gaming. From Pinball to Atari to the current platforms, customers came from all around and enjoyed themselves.
Today, Phoenix Games is a thriving business and sets a standard for independent game stores. We clean and test our games, systems, and accessories before we put them up for sale. We replace save batteries and Nintendo pinsets. We even let customers test games prior to purchasing. Then, we back our products up with a 30 day warranty.
We also offer a variety of repair services and in-store gaming.
Phoenix Games – old school gaming with a new level of customer service. Check us out.
phoenixgames
I've been collecting video games for 32 years and I can honestly say that the [...]
phoenixgames
As was mentioned previously (see Return of Retro: Part I here), nostalgia plays a major [...]
Phoenix Games
I'm often asked, "Why do people buy old games?" Well, there isn't just one definitive [...]
Just Some of Our Services
Video games, systems and accessories from current to vintage platforms
In store online gaming
Pinball repair services
Disc resurfacing, NES 72 pinset replacement, and Gameboy battery replacement
No hard sales at Phoenix Games!
This place rocks. It has the best pinball EVER!
Walking into this store was mind blowing. It brought back a lot of nostalgic feelings.
If they don't have a game that you're looking for they add you to their call list & they actually DO CALL!
Phoenix Games has excellent customer service, a great selection and awesome prices.
It's nice to know there's a trustworthy seller of video games in the bay area.
Their prices are great too, they match GameStop and other game stores as well.
Hard core cool store. They are the BEST game store in the bay area.
They are very knowledgeable and have a great variety of old games and new games.
Oh yeah, they even clean CD's and game discs for a small fee.
I like how they alphabetized everything to make it easy to find games your looking for.
The employee who saved my system knew exactly that the problem was and had us wait in shop while he fixed it. Heck Yes!